The other night I finally caught up with the recent series of Comedy Playhouse. I say 'finally' but truth be told, I didn't even realise I'd missed it.
I don't want to go full rant, but I love BBC comedy and feel like I'm pretty good at keeping on top of current developments, so it concerns me that the Beeb can launch a new series of pilots, and yet, it can completely pass me by. I'm not saying I'm the demographic they should be chasing, I just worry that if I can miss these shows on their first run, then the majority of casual viewers will miss out too. That's a worry, seeing as this new series of Comedy Playhouse has a bit of something for everyone.
Firstly, Stop/Start, a new multi-camera sitcom from Jack Docherty. It follows the lives of three couples as they share their intimate moments with the audience, while dealing with the complications of being part of a committed relationship. A lot of people have compared it to Peep Show, and I can see why, but I actually think it's closer in approach to How Not to Live Your Life. And even Craig David's Seven Days video.
The show plays out like a standard sitcom, only at various times the characters 'stop' the action to explain their feelings to the audience. While the show has already enjoyed some success of radio, I personally struggled with its television format. I haven't heard the radio show but I can image how the 'stop-starting' sounds, and that it feels natural within the context of the show, hearing internal monologues like Peep Show, yet when you're watching it acted out in front of you, the constant pausing has a jarring effect, halting the action and character repartee in favour of jokes that don't really add anything.
Miranda was another show which routinely paused the action for direct to camera sections, and yet managed to pull it off with ease. I think the reason for that has to do, not only with Miranda's character – which felt big enough to have an understanding of life outside the show – but also because it featured one clear P.O.V.
At any one time, Stop/Start offers up six opinions while trying to seamlessly tie them into a unifying narrative. It's a tough job and while I did enjoy lots of elements within the show, I actually felt this hook was its undoing. There was something odd about characters competitively sharing their inner thoughts that actually made the show feel less 'real', stripping these relationships of warmth and honesty. A couple of moments really stuck out as being somewhat bluntly horrible; revelations I couldn't accept as believable (even though they were) because I hadn't warmed to the characters and format.
With Peep Show you're privy to Mark and Jeremy's thoughts, but they are informed by, and in turn inform, their actions. Large chunks of this show seemed to use these 'asides' to simply play out longer stand-up routines on a variety of topics, or to show that characters had conflicting views, which should be the least we'd expect from a sitcom anyway.
All this sounds very negative, but actually, there was a warmth and playfulness that kept me onside for the episode. While it seemed to rely too heavily on the well-worn idiotic husband and nagging wife trope, often to the detriment of having anything interesting to say about relationships, the cast were uniformly great (although Laura Aikman seems miscast and struggled to generate the laughs she's capable of).
For me, the stand out was Nigel Havers who really seems to have embraced self-mockery. That could be because he had a little more definition to his character than just 'a bloke'. While there was nothing particularly remarkable about Docherty's character, I'll admit as a performer he's endlessly watchable, and with stronger material he'd be an incredibly safe pair of hands to lead any ensemble.
I did feel the performances were pitched slightly too high for the show. I get that it's a studio sitcom, but it does feel like we've lost the ability to combine subtle acting with broad humour. Despite bigger moments, Only Fools and Horses always managed to deftly balance 'real' performances. With a hook that's designed to draw you out of the action, softer performances may have helped ease those transitions.
In addition to that, I did feel the show lacked any real diversity. What could easily have been written as a similar set up to Modern Family; pitting different character lifestyles against each other, Stop/Start chose to focus on three middle class, middle aged, white relationships. I've nothing against that, but especially with these broadly drawn characters, it seemingly offers less to play with in the grand scheme of things.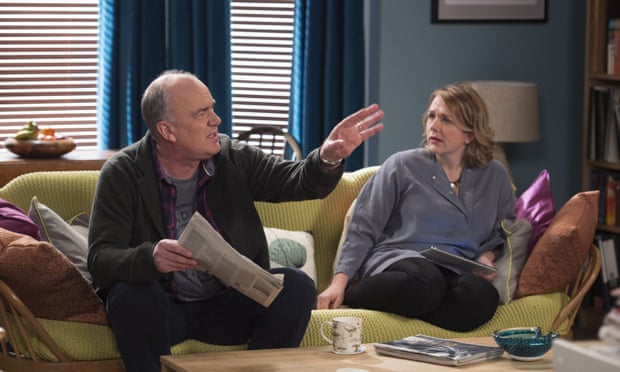 I do hope they make more of Stop/Start as I feel it has the potential to become a strong studio sitcom contender for BBC1, I just hope they can soften the characters a little and find some genuinely revelatory things to say about relationships.
Because, that's the thing with opinions, they're only worth hearing if they're interesting.
I'll be back later to discuss the other two episodes from the series, Hospital People and Broken Biscuits.